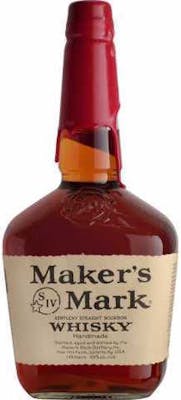 SKU: 8369
Maker's Mark Kentucky Straight Bourbon Whisky
---
---
This one changed the way we think of bourbon, all because one man changed the way he thought about making it. Bill Samuels, Sr., simply wanted a whisky he would enjoy drinking. Never bitter or sharp, Maker's Mark is made with soft red winter wheat, instead of the usual rye, for a one-of-a-kind, full-flavored bourbon that's easy to drink. To ensure consistency, we rotate every barrel by hand and age our bourbon to taste, not time. Each and every bottle of Maker's is still hand-dipped in our signature red wax at our distillery in Loretto, Ky., just like Bill, Sr., would have wanted. Woody oak, caramel, vanilla and wheat prevail in the nose. Taste is sweet and balanced with caramel, vanilla and fruity essences. Smooth and subtle finish.
The base aroma is buttered corn-on-the-cob with aeration bringing additional scents of vanilla and cinnamon. The palate entry showcases sweet breakfast cereal grain; at midpalate the corn dominates so thoroughly that you know that this could only be one of the best straight bourbons from Kentucky. Ends spirity and heated. One of America's benchmark spirits. -P.P.

Are you 21 years old, or older?